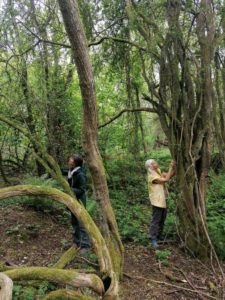 Our Forest Bathing combines an educational element, mindfulness and slow walking in woodland with sensory and meditative practices, for an immersive experience of the forest environment. Our sessions involve all our senses, and end with an optional woodland tea.
Between us, we have worked at numerous locations including collaborations with the National Trust, the RSPB, and the Royal Botanic Gardens Kew. A recent google review: This was not just two guides working together side by side, this was two guides who were just so skilled and empathetic towards the needs of running a group, and so able to work in harmony with each other that the session just felt like "flowing magic "capturing all the forest has to offer. We were all made to feel truly at one with nature but also in harmony with each other, which is such a wonderful thing to take from a session.
Forest Bathing comes from the Japanese 'Shinrin yoku', which was developed to mitigate high levels of stress and illness experienced by workers in the main urban areas in Japan in the 1980s.
Harmony In Nature runs public and private nature connection events, as well as corporate team-building and wellbeing sessions. Whatever type of event you attend, you will leave with ideas for increasing your own physical, mental and emotional wellbeing as well as your connection to nature, so the benefits continue beyond the session. We also offer nature connection events outside of woodland, and can assess for suitability any locations you may have in mind. See our website for a full listing of locations.
Mindfulness and nature therapy each have scientific backing for their own potential benefits, which is why this combination is so powerful. Some established potential benefits observed are:
• decreased stress and cortisol levels
• balanced blood pressure, better pain management
• improved cardiovascular and metabolic health
• reduced depression, anxiety and rumination
• improved focus, concentration, memory and higher brain functions
• enhanced energy and creativity
• reduced blood-sugar levels, facilitates weight loss
• boosted immune system, by increasing the body's natural killer (NK) cell count
• increased anti-cancer protein production.
We are trained by The Forest Bathing Institute (TFBI), whose commitment to reproducing and going beyond the Japanese science, and determination to see forest bathing as part of our NHS, is unique in the UK. In collaboration with TFBI and the University of Derby, Joanna and Katie have participated in a study with the charitable organisation Mind, offering 6 consecutive weekly sessions, preliminary results show an incredible reduction of anxiety.
As a preventative healthcare practice, employers can offer some support to team members before stresses become overwhelming, by suggesting an enjoyable pastime, rather than a more formal intervention. The all-round wellbeing benefits of slowing down and using all senses to become present, as well as the quality of woodland air, can bring us into a sense of calm and balance, which is reflected in the physiological measurements taken during the existing, extensive research from Japan. Katie participated in two of the recent UK studies published in this special issue of the journal 'Sustainability' .
Employers could encourage team members to join in our public sessions, or they can arrange for private groups on a regular basis (such as annually, six-monthly, quarterly or more frequently), depending on company aims. A natural group support becomes apparent during an event, which makes bespoke sessions ideal for building collaboration within teams, and bringing different teams together. Contact us to attend a taster session.
Guiding forest bathing and nature connection walks seemed a natural progression for both of us, having spent large amounts of our childhoods playing in woods, or on family holidays walking, youth hostelling, camping and being outdoors. Developing a love of nature, animals, mountains and woodlands has laid the foundations for many of our subsequent interests and self-employed work.
With a combined management, consultancy and quality control background in the travel industry, publishing and teaching/training, we separately discovered various physical and energetic natural healing techniques. We are both trained in Mental Health First Aid (MHFA).
Outside of our standard forest bathing sessions, we work with ensuring rounded health through nutrition, herbs, essential oils and foraged teas, as well as energy healing, lunar alignment and meditative practices.
Fun fact 1: Joanna developed her own energy healing system, based on an Egyptian version of Reiki, and has had great success with it for 20 years.
Fun fact 2: Katie has been on two survival courses, and enjoys opportunities to fire walk and glass walk, as a reminder we can always do more than we think is possible.
We also wanted to have options to run nature connection sessions in lovely locations which are not always wooded, such as fields, parks and gardens, where the benefits of connecting to nature still apply.
We believe we can find, appreciate and reconnect with nature in many ways, including in a more urban environment. Our aim is to share the harmony in nature which we feel is a consistent support.
Love of the Surrey Hills
Living nearby for decades, the Surrey Hills AONB is our natural inspiration for both leisure and work, and our preferred location for our immersive mindful walks. We encourage those coming from further afield to make a day of it to explore the area.
Part of the information we share during our events is to enable understanding of how the wellbeing of ourselves and nature is intertwined. When we understand, we feel connected, and once connected, we want to protect. Our aim is for participants to further integrate nature into their lifestyle and appreciate the need to protect our environment.
We run forest bathing and nature connection events in a number of locations in the Surrey and Greater London areas, currently centred around the Surrey Hills AONB, with new sites regularly introduced. We generally run small-group sessions, but can take 15-20, depending on the location used.
As a nature connection practice, forest bathing is completely sustainable: we aim to leave no trace, encourage respect, and even a reverence, for nature and the locations where we can appreciate her beauty. It requires no new equipment, and the practical tools we offer can be used and re-used time and again by participants to develop and regulate their own self care and resilience.
But don't take our word for it: come and experience it for yourself.