Orchard Portraits launches at West Horsley Place
28th July 2023
A 7-screen video installation at West Horsley Place created and directed by Roswitha Chesher and Rosemary Lee
Dates/times: 29 July – 2 November.
See Orchard Portraits when you visit the Manor House for a tour, Open Day or other event. Or- see it on Thursday afternoons from 2pm-5pm for FREE.  
Address: West Horsley Place, Epsom Road, Leatherhead, Surrey, KT24 6AN
Choreographer Rosemary Lee brings her unique sensibilities to both landscape and people to create a new video-work made collaboratively with filmmaker Roswitha Chesher – inspired by and shot in the historic wild orchard at West Horsley Place.
Filmed over a year through the four seasons, ORCHARD PORTRAITS features five senior performers, each in a meditative and elegant duet with their chosen ageing tree.  As human and tree become entwined almost as one, there is a sense of deep unity seeming to pay tribute to humanity's ancient and ongoing intimate relationship with trees. In contrast we are reminded of natures' cycles of regeneration as 60 school children burst through the orchard in moments of joy and discovery.
Bringing the beauty of outside in, this seven-screen video installation will inhabit the stone hall of West Horsley Place throughout the summer/autumn of 2023.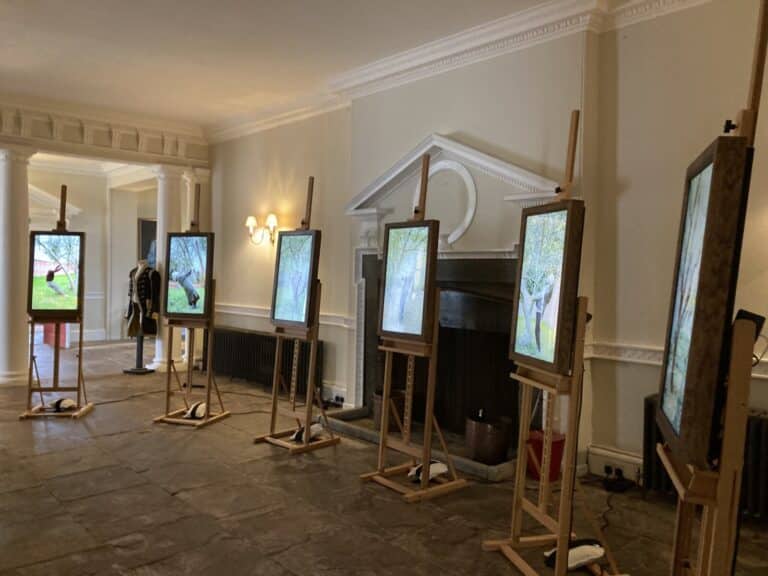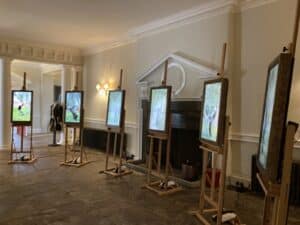 Performers:  Nancy Budd, Violet Clare, Andrew Hamel-Cooke, Jim Tucker and Helen Scalway.
Year 5/6(2022) from The Raleigh School, West Horsley, Surrey.
Original concept and Choreography: Rosemary Lee
Director of Photography: Roswitha Chesher
Editing: Roswitha Chesher with Rosemary Lee
Costumes: Susan Dinmore
For the installation:
Production Manager: Steve Wald
Synchronised Playback System: Rob Prouse
Installation Construction: Richard Rudnicki
Produced by Ali Clarke Surrey Hills Arts with Nicky Childs Artsadmin
Supported by Arts Council England, Arts Partnership Surrey and the Surrey Hills National Landscape.
Special thanks to Matt Link, Clare Clinton and the team at West Horsley Place, Katie Green, Julie Gilbert, Jan Alderman, Douglas Murray.
www.surreyhillsarts.org/orchard-portraits-video-installation